Early Sunday Morning Napa was shaken by a 6.1 magnitude earthquake. The event has drawn worldwide coverage. There has always been tremendous interest in California's wine industry and Napa Valley wineries in particular and the earthquake has only intensified this interest. In an effort to address the concern and sympathy from all corners of the world, I wanted to give some first hand reports on how the quake has affected the wine business, how folks are coping and what impact it has had on business.
The media has shown picture after picture of the crumbled building in downtown Napa, and several of my friends have tasting rooms, storage facilities and houses in that area. Some people woke to a violent shake and the clamor of breaking glass from their cupboards. Fireplace chimneys have come down, one of which caused the worst injury from the quake.
Elan Fayard of
Azur Wines
was woken up to the shake in her home 10 minutes from downtown Napa. Her home, which is under renovation didn't suffer much damage at all. This was quite different from what she discovered when she visited downtown Napa and the site of her tasting room at Vintner's Collective. This beautiful old building suffered extensive damage and it will take some time to figure out the extent of it. Elan also visited the shared barrel storage site, which had a lot of damage from barrels falling off the racks. Elan and her winemaking husband Julien have been working to assess the damage to their wines. While the pictures show a lot of destruction, Azur has been fortunate to have had only minor losses.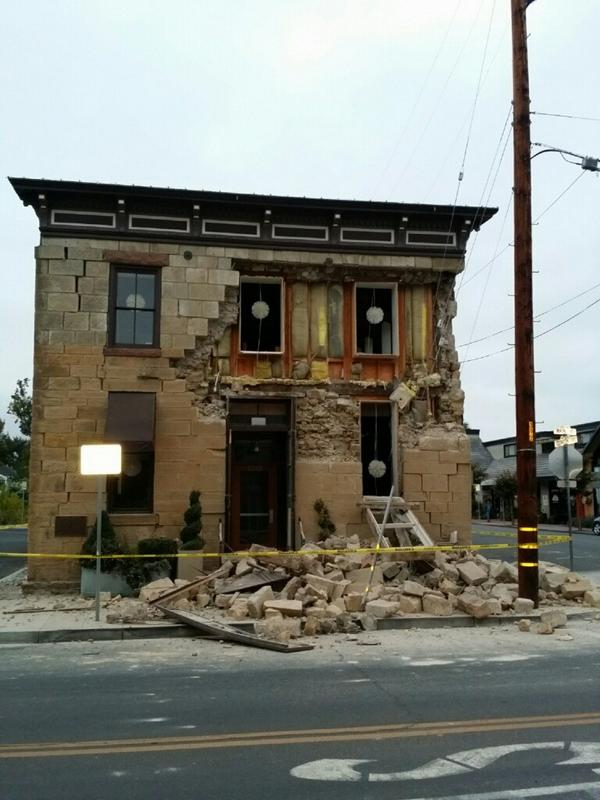 e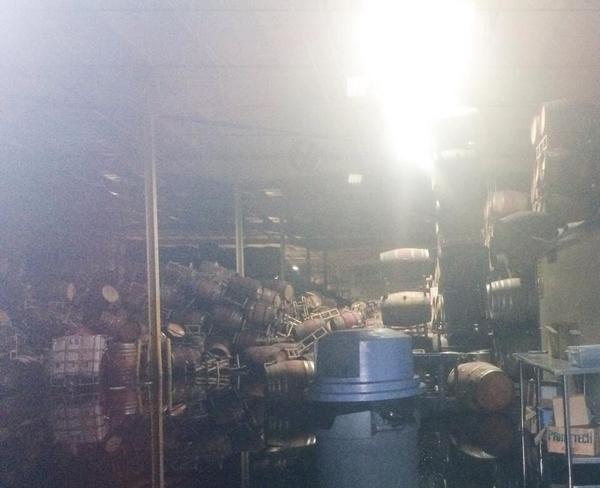 Elan did mention that timing was a blessing in this situation. The quake hit at 3:20 am on Sunday, a time when most people in the area were home in bed. Workers were not crushing grapes for the harvest, not moving wine into tanks or barrels and luckily not working in storage areas. News reports and social media posts show extensive damage at some winery facilities.
(Visit Napa Register's site for more quake news and photos)
My recruiting partner Nancy McIlvaine was jolted out of bed and was out of power for several hours. Her youngsters were able to get back to bed, and luckily not much damage occurred at her house on the east side of town. My friends on the other side were not as fortunate. Brown's Valley saw a lot of damage, with pipes bursting and flooding occurring at many properties.
Speaking to Martin Jones, President of Artisan Source, LLC, he didn't experience the shaking of the quake at his home in Sonoma County, but later in the day he did visit Napa and found it eerily quiet. Driving down Highway 29 many tasting rooms were closed and traffic was nonexistent on the road. In the afternoon he visited downtown Napa and was surprised at how quiet the streets were. Sunday is normally a busy day for the tourism industry, and the only people in downtown were either the media or locals who were handling quake clean-up.
Martin did stop at the building on Brown Street that has been getting all of the media attention
and walked around downtown a bit. Outside of a few other buildings with some damage and some bricks strewn around, the amount of damage was surprisingly minimal. Elan Fayard also went downtown later in the day on Sunday and it was quiet. The shops were closed and people were somber. The loudest sound was that of the media helicopters flying overhead.
Martin did mention that while the epicenter was just south of Napa, some locations as far away as Sonoma experienced significant damage, including Sebastiani winery. At this time of year a lot of wine is being move
d around with crush getting underway, and tank space is at a premium, This photo on Facebook from Christopher Johnson shows one winery tank room that suffered some quake damage:
Getting back to business. Napa would not be Napa if wine did not continue to be enjoyed. Just today I got a notice that Villa Ragazzi suffered only minimal damage to some bottles and glassware, but that they are open and raising a glass to the wine industry. The warehouse Azur uses has held off on placing any orders this week so they can assess the situation. But don't let that worry you--Azur Wines were being showcased by Dean &DeLuca at a private tasting event just hours ago.
Services and Resources:
The emergency responders did wonders during the hours immediately following the event. Many people are displaced, some have been injured and numerous houses and businesses have been severely damaged. The City of Napa has routine updates about the situation at
http://www.cityofnapa.org
Several groups are getting information and services together for the local community. Napa Valley Grapegrowers offices suffered some damages from the quake, but the association has gotten right to work to provide services and resources for the community.
Lewis Purdue who publishes Wine Industry Insight and the Daily News Fetch has put together a news forum for those in need of help and for people who can help out. For more information, please visit
http://napaearthquake.com
.
My thoughts go out to those who have suffered injury or damage from this earthquake, and wish everyone a speedy return to normalcy.
While the clean-up will continue, Napa is definitely back to business as usual. Visitors are enjoying all that wine country has to offer. With the camaraderie the wine industry has I know we will all be working together to get through this as quickly as possible. I hope to see you there soon!